Paroles et traduction de Some - Brian Molko ft Dream City Film Club (Collaborations/duos)
Some
(Brian Molko ft Dream City Film Club)
PLACEBO

Paroles Dream City Film Club - Traduction Nad
Some
Certains
Some like to dream
Some like to live
Some like to take
Some like to give
Some take enough
Some take it all
Some will rise
And some will fall

Some like it tight
Some like it lose
Some need a reason
Some need no excuse
Some like it dirty
Some like it clean
Some like it tender
And some like it lean

Some fuck for fun
Some for prestige
Some come on their feed
Some come on their knees
Some say they're bad
Some say they're straight
Some come early
And some come late
Now I'm taking some
Certains aiment rêver
Certains aiment vivre
Certains aiment prendre
Certains aiment donner
Certains prennent ce qu'il faut
Certains prennent tout
Certains s'élèveront
Et certains tomberont

Certains l'aiment ferme
Certains l'aiment flasque
Certains ont besoin d'une excuse
Certains n'ont besoin d'aucun prétexte
Certains l'aiment sale
Certains l'aiment propre
Certains l'aiment tendre
Et certains l'aiment âpre

Certains baisent pour s'amuser
Certains pour le prestige
Certains viennent à pieds
Certains viennent à genoux
Certains disent qu'ils sont mauvais
Certains disent qu'ils sont réglos
Certains jouissent tôt
Certains jouissent tard
Maintenant j'en choisis un
Annotations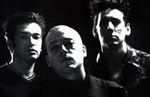 Le groupe de Michael J. Sheehy et Andrew Park (ancien collègue de Steve Hewitt au sein de Breed) a souvent accompagné Placebo à leurs débuts en tournée, sans connaître le même succès. Pour l'anecdote ils ont d'ailleurs sorti en 99 un album nommé « In The Cold Light Of Morning ».
Brian chante pour le groupe sur le titre Some, paru sur le maxi Billy Chic en 98.
Ce qu'en dit Brian Molko :
MàJ

Il y a peu de temps tu as participé à un single du groupe Dream City Film Club.

Brian : Ce sont des amis : en fait, Steve jouait avec Andy, le bassiste, dans Breed. Le chanteur, Michael, a écrit un truc et m'a juste demandé de venir chanter. Sans doute parce que texte est un peu obscène. (Sourires.) Ça m'a bien plu, j'ai pu faire ma Pj Harvey.



Brian Molko

, Magic ! #23, octobre 1998
Source : Magic !

---

Partager cet article