Battle For The Sun (Placebo lyrics, explanations and press quotes)
PL
A

CEBO

WORD
Z
Placebo Songs commented
by Brian, Steve and Stefan
Battle For The Sun
(Battle For The Sun)
Lyrics and explanation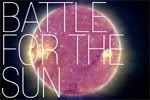 Lyrics
Placebo
Battle For The Sun

I will battle for the sun
And I won't stop until I'm done
You are getting in the way
And I have nothing left to say

I will brush off all the dirt
And I will pretend it didn't hurt
You are a black and heavy weight
And I will not participate

Dream brother
My killer
My lover
(x2)

I will battle for the sun
'Cause I have stared down the barrel of a gun
No fun,
You are a cheap and nasty fake
And I am the bones you could not break

Dream brother,
My killer
My lover
(x2)

Dream brother,
My killer
My lover
(x4)

I will battle for the sun
Press Quotes
I'm really really proud of that song.
I think it's probably one of the best song Stefan and I have written.
We are quite proud of it.


"Brian Molko"
, BBC radio 1, 17 March 2009
---
Can you explain to us the meaning and inspiration behind the lyrics of 'Battle For The Sun' – what are you fighting against on that track?

Stefan: Well, Brian is the main writer for this band, so the only way I can answer is by offering you my own interpretation. There's always a bit of a conflict going on in the characters that are there in the songs that he writes. I think 'Battle For The Sun' works in the same way that 'Without You I'm Nothing' did as the title track on the second album. 'Battle For The Sun' kind of puts a little umbrella over what the characters are going through in the other tracks, in the sense where the moon is in front of the sun, and when the moon is there like the umbrella, it's dark but when it moves away there is light and you can choose whether to be in the dark or in the light. You can choose to lead a happier life, it might not be easy, but you should hold on to the hope and the optimism.

Steve: It's the idea that if you love something, it's worth fighting for.
"Stefan Olsdal"
,
"Steve Forrest"
,
interview clicmusic.com, avril 2009
---
Can you tell me how the opening and title track, 'Battle For The Sun', came about - was the repetition of words a hook from the start?

Brian Molko : We were in the rehearsal room mucking about, and Stefan came up with the riff. I don't know where it all came from, but I just started (singing) "I, I, I, I, I will battle for the sun."
I don't know where it came from. I was like, "Ooh, that's weird, that's different." It was interresting rhythmically so I thought, "Let's go down this route. Steve - play some rim shots." And off we went.


"Brian Molko"
, J Mag Australia, May 2009
---
PLACEBO WORDZ HOME
Partager cet article