Brian Molko, VOXPOP Number 10 June-July 2009, translation (Placebo interview, press)
PL
A

CEBO

WORD
Z
Placebo Songs commented
by Brian, Steve and Stefan

Brian Molko, VOXPOP, June-July 2009
PLACEBO
(Translation Pam)
About the CD covers :
"I see them all the time, you know. I quite love them, except "Black Market Music".
Brian Molko has Placebo complete artwork in front of him, the grimacing little boy from 1996 to the solar eclipse from 2009.
Though they are regarded as charismatic, fashion and sophisticated pictures lovers, Placebo members have never put their faces on a cover.
A choice necessarily rational: "When we started, this would have looked like a boys band," says Stefan Olsdal simply. "We grew up with the tradition of vinyl and the big picture that you could frame and hang on the wall. The picture of the band was on the back," explains Molko. Placebo express their historical aspirations.
Back on 13 years of images.



Placebo
(1996) cover made by Saul Fletcher


Strong contrasts, nearly two complementary colors, this picture of Placebo remains the most significant. Simple, effective and funny, we don't know if this little boy is crying or laughing, he wonderfully summarizes the teenage angsts told by the band.

"The kid is the photographer's nephew. We ended up using it because we didn't love at all the original concept: many boxes and mannequins. It was the right choice, I love the contrasts and the melancholy of the shattered innocence that emerges from the image."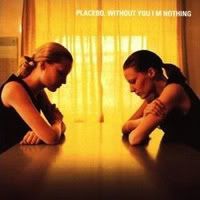 Without You I'm Nothing
(1997) Cover made by Corinne Day


The transition to adulthood can't go without the experience of romantic relationships, often disastrous.
What's closer than twins? Yet there seems to be a barrier between them ...

"Sally and Sarah are working in the music business for record labels and promo agencies. They are well known in the London musical scene. We used their twinning to represent the most intense relationship, so mysterious that few can grasp it."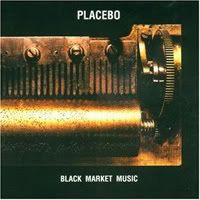 Black Market Music
(2000) Cover made by Kevin Westenberg and Paul Collins


While the band is at the height of his media exposure, Placebo removed for the first time any human presence (and charm) to his artwork.

"These are things journalists noted but not musicians" says Molko. "It was a visceral reaction to our past imaging. When we saw this music box mechanism, we just said yes, believing it showed the origin of the recorded musics, there was nothing psychological ... In retrospect I think we over-analyzed, we just tried to be smart. "
"But this cover sucks so much! "Olsdal complete.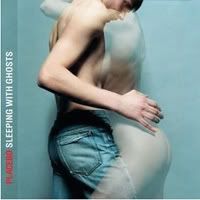 Sleeping With Ghosts
(2003) Cover made by Jean-Baptiste Mondino


While the band reached the top of the charts with "Black market Music" and while the greatest fashion designers were struggling to dress Brian, it was out of question to release a cheap cover! Placebo used a renowed photographer and music video director (Jean-Baptiste Mondino has worked with Rita Mitsouko, Madonna, Bjork, Alain Bashung, Tricky) and treat themselves with a luxury cover.

" 'Sleeping With Ghosts' is the only picture taken with the intention of being a cover, that was actually used as such. It is simply a double exposure. No tricks. It symbolizes the bond to the relationships' memory. But we had some problems with it in some countries. Too suggestive. In China it was more cultural, a ghostly appearance is synonymous with bad luck and that is unacceptable ... This is the kind of stuff with which one learns to be careful."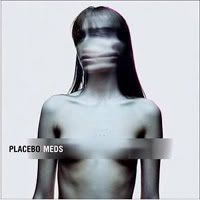 Meds
(2006) Cover made by Alex Cowper and Nadav Kander


In the same vein as its predecessor, "Meds" is illustrated by a body turned into a state of traces, by the movement this time. All this on a very classy white.
Sign of the formula that works?

" 'Meds' is an accident. It was a test for a promo photo shoot. But I liked the image so much it was kept for the cover. "




Battle For The Sun
(2009) Cover made by Joseph Ilanes and Morning Breath

No more beautiful body, just an image of an eclipse, almost abstract. Symbol of renewal, for us to believe that the record contained in the packaging is revolutionary?

"We wanted something at odds with our traditional imaging, but this time, we delegated the artwork to the American company who has signed the cover's design of TV On The Radio and the last Queens Of The Stone Age. We left them being "artists" with for only instruction that it must be different.
The eclipse is not the most original idea in the world, but it represents the album that speaks of a certain pleasure gleaned in the depths of darkness. And above all it is completely timeless.
As the 'Dark Side Of The Moon' by Pink Floyd, it's intellectually accessible to anyone, anywhere on the globe ... "


Brian Molko, VOXPOP Number 10 June-July 2009
Source : VOXPOP
---
PLACEBO WORDZ HOME
Partager cet article